'When I Grow Up' at the Hall for Cornwall
Posted on
'When I Grow Up' was our end of year Hall for Cornwall show held on the 22nd of June 2014, comprising of all of our Cornwall Dance students and guests that we have had the pleasure to work with recently. And what an amazing show it was!! You guys all did so well, we are so proud of everyone that took part and help make it a huge success and a thouroughly enjoyable production! You should all be incredibly proud of yourselves for the performance you all gave!
The story followed of a bunch of students in Detention as they try to work out what they would like to be when they grow up! Students performed in their teaching groups and styles including Ballet, Tap, Streetdance, Breakdance, Freestyle/Contemporary and Musical Theatre were all intertwined to create a fantastically diverse production!
We want to thank Adele and Daz our mentors, Ceri and Saffy on make-up. Kat, Haidee, Sara, Claire and Ken were just a few of the chaperones we would like to thank for their amazing backstage help with the kids.
A massive thank you to our amazing guests; 3Dance, Coact, Tr14ers and Little Monkey Theatre Group! You guys were absolutely brilliant, and made our show complete!
And a huge thank you to all the parents for their continued support and also to all those who came to the show to watch, we couldn't do any of it without you all and we hope you all enjoyed the show and to see the students as they progress in the performing arts!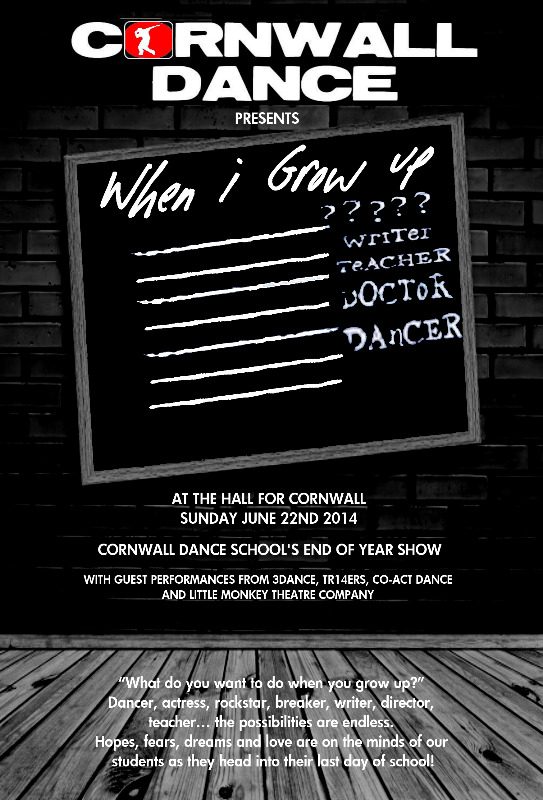 Please click the link to see an amazing slow mo video of some bits from the show taken during the Tech rehearsal.